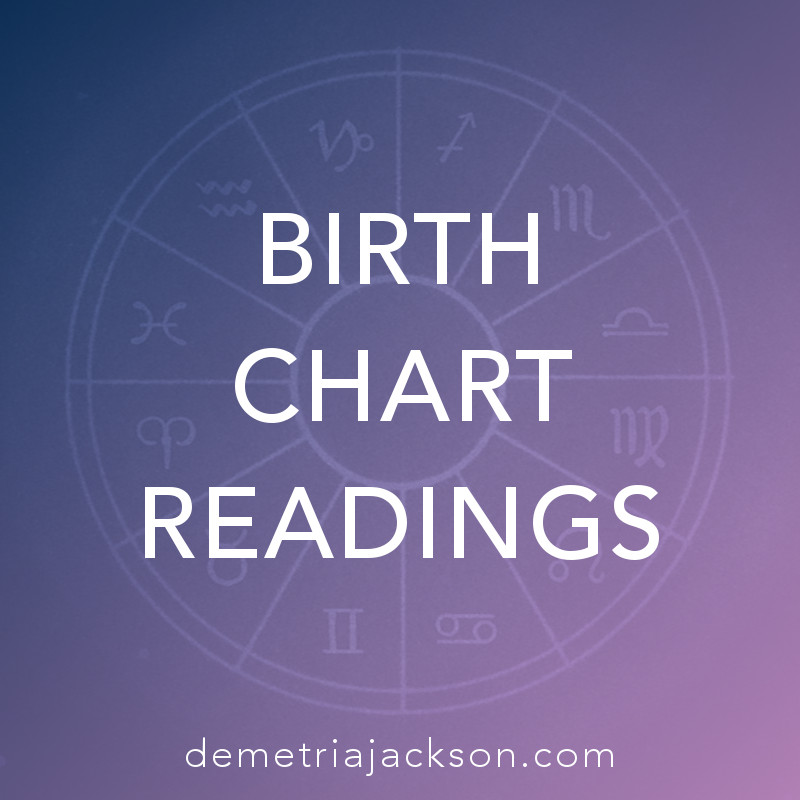 Birth Chart Readings
Unpack your birth chart with Demetria!
Your birth chart is an astrological snapshot of the stars at the moment you were born. It reveals numerous details about your identity, essence and nature; sheds light on the divine gifts you've been given and; provides context for the cosmic challenges or lessons that support your spiritual evolution.
When you purchase a reading with Demetria, you'll receive a series of pre-recorded videos that organize the information revealed in your birth chart into 4 main parts.
Video 1: Identity & Essence (including who you are and how you want to be seen, your unique approach to life & emotional nature, elements, qualities, general vibe and disposition, values)

Video 2: Love & Relationships (intimacy, romance, family, friendships, community connections, children + family planning, sex + sexuality, communication + conflict management)

Video 3: Livelihood & Lifestyle (career, personal finances, fun + adventure, reputation + life goals, home, travel, play, creativity, education)

Video 4: Body & Wellness (including your approach to mental and physical health, emotional wellness, exercise, and self-care)
IMPORTANT: All readings are confidential, recorded as a 4-part custom video series, and delivered via email within 30-45 days of purchase. An accurate date, time and location of birth is required to draw and interpret your birth chart. Please note, if the birth time (or any other information) provided is incorrect, the interpretation may not be accurate and the reading will not be refunded.
DISCLAIMER: All readings are done with the understanding that the client has free will and is responsible for the actions taken after their reading.